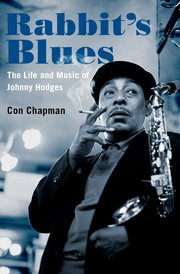 Oxford University Press presents Con Chapman's new biography of the great saxophonist and Ellington frontman Johnny Hodges.
As the first ever biography on Johnny Hodges, Rabbit's Blues details his place as one of the premier artists of the alto sax in jazz history, and his role as co-composer with Ellington.
The estimated release date is early November; look out for a review in a future Blue Light.